(英語)
For the crust
1/2 cup cold whole milk, plus more if needed
3 tsp apple cider vinegar
2 2/3 cups (340g) unbleached plain flour
1 1/2 tbsp sugar
1 tsp salt
250g cold unsalted butter, cut in cubes
1 large egg
1/4 cup whole milk
raw sugar, for sprinkling
For the filling
8 cups (1.1kg) pitted sour cherries, fresh or frozen
1 cup (200g) sugar (see tip)
36g (3¾ tbsp) corn flour
1/2 tsp fine sea salt
45ml cherry liqueur or cherry-flavoured brandy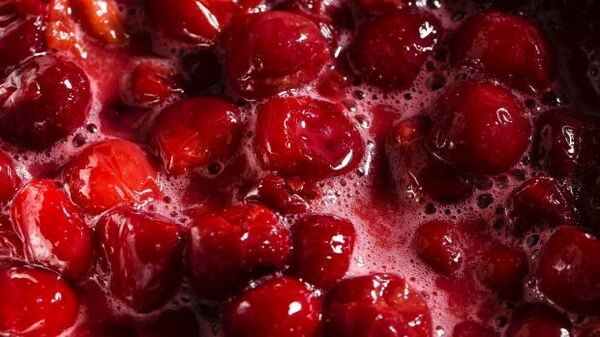 For the crust
1. In a liquid measuring cup, stir together the milk and vinegar.
2. In a large mixing bowl, toss the flour, sugar and salt with a fork to combine.
3. Using a pastry cutter, cut in the butter cubes until the butter is the size of small peas, add to mixing bowl. Using a fork or large spoon, slowly add the liquid in four or five additions, stopping after every pour to combine, until the dough just sticks together. Knead lightly in the bowl until it forms a taut ball.
4. Separate dough into two equal-size disks and cover tightly with plastic wrap. Refrigerate for at least an hour.
For the filling
1. Mix the cherries, sugar, corn flour and salt in a medium-size saucepan and cook over medium heat until cherries thaw (if frozen) and the corn flour and sugar dissolve. Reduce heat to medium-low, stirring occasionally to keep cherries from burning, and cook until the mixture thickens slightly. (Total cooking time should be about 20 minutes).
2. Add liqueur, stir and remove from heat. Let cool to room temperature.
To assemble the pie
1. Heat oven to 220C. On a lightly floured work surface, roll out 1 disk of dough into a threemillimetre thick circle about 38 centimetres inches in diameter. Transfer to a 22 centimetre deep-dish pie plate and chill in refrigerator as you work on the top crust.
2. Working quickly, roll out a second disk into a three-millimetre thick rectangle about 38 centimetres inches long and 30 centimetres wide. Cut into six strips about five centimetres wide. Remove pie plate from refrigerator and fill with cherry filling. Weave lattice strips over the top. Seal, trim and crimp the edges. Or cut dough into five zigzag strips and lay on top of pie filling, trimming excess.
3. In a small bowl, whisk the egg and milk to make an egg wash. Brush the crust with it, and sprinkle with raw sugar.
4. Place on a baking tray and bake pie for 20 minutes, rotating once halfway through. Lower heat to 180 degrees and bake another 30 to 40 minutes, until the crust is golden brown and the filling is thick and glossy. Juice may bubble onto baking tray. Remove pie to wire rack to cool before serving. The pie can be stored in the refrigerator for up to five days.
ソース: goodfood(レシピーテキスト)、New York Times(写真)