For the real year, see 1989 (production).
The following events took place in 1989:
Events
[
]
January
[
]
February
[
]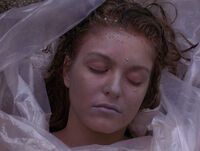 See: February 1989
March
[
]
See: March 1989
Following clues from a dream, Dale Cooper and the sheriff's department led by Harry S. Truman arrest Jacques Renault for the murder, but Renault is killed in the hospital by Leland Palmer.[5]
As part of an extortion scheme, Leo Johnson burns down the Packard Sawmill, seriously injuring Shelly Johnson, Pete Martell, and Catherine Martell, who briefly goes missing.[5][6]
While trying to assist Agent Cooper, Audrey Horne is kidnapped and held hostage at One Eyed Jacks, but is eventually rescued.[7][8]
Donna Hayward befriends Harold Smith and attempts to steal Laura's secret diary from him with the help of Maddy Ferguson, but the act results in Smith's suicide.[9]
On the guidance of Phillip Gerard (or Mike), Cooper tries to identify the human host of BOB, but wrongly arrests Ben Horne. The real BOB, Leland Palmer, kills Leland's niece Maddy Ferguson.[10]
Leland is exposed and confesses to killing Laura and Teresa Banks, before BOB reappears and causes Leland to kill himself, smashing his head against his cell wall.[11]
To be added
The Miss Twin Peaks Contest is held. After the winner is announced to be Annie Blackburn, Windom Earle disrupts the event and abducts her. Cooper follows them through a set of curtains at Glastonbury Grove and into the Black Lodge. Annie is released, but the real Cooper remains trapped, while a doppelganger escapes in his place. Within days, the new Cooper vanishes.[12]
After a dangerous confrontation at Listening Post Alpha, the station burns to the ground, while Garland Briggs' vehicle is found burned out at the bottom of a nearby gorge. Briggs is publicly stated to have perished in the blaze.[13]
An unknown assailant shoots and kills Leo Johnson, whose body is found by April 1.[13]
April
[
]
May
[
]
June
[
]
December
[
]
Events (alternate)
[
]
Births
[
]
Deaths
[
]
References
[
]
External links
[
]