For the real year, see 2016 (production).
The following events took place in 2016: [1][2][3][4][5][6][7][8][9][10][11][12][13][14][15][16][17][18]
Events
[
]
The "days" (Day 1, Day 2, etc.) are not necessarily consecutive and may overlap. All of them are prior to September 29.
Unknown dates
[
]
These events may not be chronological.
Unknown night (Day 1)
[
]
Unknown date (Day 2)
[
]
The next day (Day 3)
[
]
Unknown dates (after Day 3)
[
]
Unknown weekday (Day 4)
[
]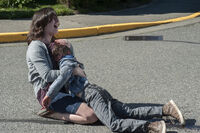 Unknown date (before Day 5)
[
]
Johnny Horne is accidentally let out of his room by Mary, and runs through his house before smashing into a wall.[9]
Unknown date (Day 5)
[
]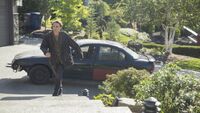 Richard Horne shows up at Miriam Sullivan's trailer. She warns him that she told the police about him running over the

little boy

, and that she sent a letter to the sheriff's department if anything happens to her. Richard breaks in and brutally beats her, then sets her trailer to ignite. Horne calls Chad Broxford and tells him to intercept the letter.[10]
Chad talks to Lucy Brennan and then goes outside to retrieve the mail. He succeeds in hiding Miriam's letter and texts Richard that it is done.[10]
Horne goes to his grandmother Sylvia's house and assaults her and Johnny, eventually coercing her to give him the combination for her safe. He leaves with thousands of dollars and Sylvia's purse.[10]
Unknown dates (Day 5 or later)
[
]
September
[
]
[edit]
Around this date, Bill Hastings and Ruth Davenport visit the Zone and pass a set of coordinates to "the Major." After they do so, the man floats up saying "Cooper, Cooper," and his head disappears. They are attacked by "people" in the Zone who demand to know the name of Hastings' wife. Davenport and the Major are killed, parts of their bodies appearing in Davenport's apartment, while Hastings awakens at home.[9]
[edit]
Ray is captured and arrested in

Yankton Federal Prison

.[2]
Mr. C returns to the motel and confronts Darya about her and Ray's plot to have him killed. He kills Darya and then downloads the specifications of the prison where Ray is being held. Cooper then contacts someone he believes is Phillip Jeffries, but the stranger tells him that he will soon be with BOB after Cooper returns to the Black Lodge tomorrow.[2]
Cooper asks Chantal Hutchens down the hall to dispose of Darya's body and then meet her along with Hutch at a certain place in the next few days.[2]
[edit]
[edit]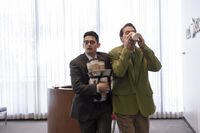 [edit]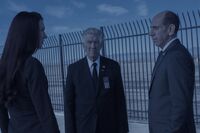 Afternoon – Gordon Cole, Albert Rosenfield, and Tammy Preston drive from a South Dakota airport to

Yankton Federal Prison

. They have an eerie conversation with the doppelganger. Afterward, Cole and Rosenfield try to make sense of Cooper's condition, and they agree that they need someone to speak to Cooper to learn more.[4]
Evening – Detectives Fusco arrive at Lucky 7 to question Cooper about the car explosion. Janey-E, there to pick him up, answers their questions. As they leave, Stadtler attempts to shoot him in the plaza. Cooper fights him off, tearing off part of his palm. News crews arrive and interview the Joneses and other witnesses.[7]
Night – Tammy Preston reviews Cooper's file and discovers an oddity with his fingerprints.[5]
At the Pentagon, Lieutenant Cynthia Knox reports the access attempt for Garland Briggs' fingerprints, and Colonel Davis orders her to fly to Buckhorn to investigate.[5]
Mr. C is granted his phone call. He dials a long series of numbers which sets off the prison's alarms, and says "The cow jumped over the moon." This triggers a change in the device in Buenos Aires.[5]
Albert Rosenfield visits Max Von's Bar in Philadelphia to find Diane Evans.[6]
[edit]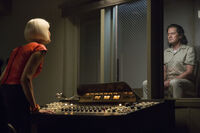 At the prison, Diane has a harrowing conversation with Cooper. Afterward, she emotionally tells Cole that it is emphatically not the man she once knew.[7]
Using powerful blackmail information, Cooper meets with Warden Dwight Murphy and secures his and Ray Monroe's release that night.[7]
Detectives Fusco question Bushnell Mullins at the station about the attempted assassination of Dougie Jones the previous day. They realize that Jones' records do not exist prior to 1997. The

desk sergeant

reports to them that the piece of flesh from the assassins' gun are a match for Ike "The Spike" Stadtler.[9]
Mullins tells Cooper to take the rest of the day off, and promises that tomorrow they will start looking into what is going on. Cooper is mesmerized by the American flag across the room, then becomes fixated on a womans' heels and a power outlet.[9]
Having found Stadtler's location, the detectives arrest him as he attempts to leave his motel.[9]
Dr.

Ben

performs a checkup on Dale Cooper. Both he and Janey-E are astonished by "Dougie's" weight loss and excellent health.[10]
While trying to swat a fly, Candie accidentally hits Rodney Mitchum in the head with a remote control.[10]
Night – While watching a

news broadcast

, the Mitchums learn about Ike The Spike's arrest and recognize Cooper as "Mr. Jackpots" from the casino floor.[10]
Duncan Todd calls Anthony Sinclair to his office and says that Sinclair needs to convince the Mitchums that Dougie is the one who denied their insurance payout.[10]
[edit]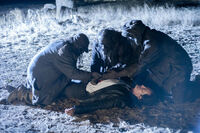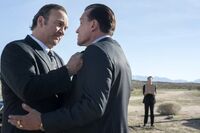 5:30 p.m. PST – Bushnell walks Dougie downstairs to the waiting limousine, but Dougie first visits a coffee shop and buys a cherry pie. In the desert, he is saved when Bradley looks inside the box and explains that because of the pie Dougie is not his and Rodney's enemy. They are overjoyed to find the insurance check in his pocket.[11]
Night – Gordon Cole and Tammy Preston laugh to each other watching Albert and Constance Talbot at dinner.[10]
While drawing in his hotel room, Cole is interrupted by Rosenfield knocking on the door and experiences a vision of Laura Palmer. Rosenfield tells him about the text message Diane received. Agent Preston arrives and shows them a photograph of Cooper at the glass box loft before the murders with another man.[10]
Deputy Hawk shows Sheriff Truman an old map pertaining to Briggs' instructions. Margaret Lanterman calls to warn them about the fire at the location on Blue Pine Mountain.[11]
Cooper dines with the Mitchums at

Santino's

, where the lady slot-addict finds him and thanks him for changing her life. Candie, Mandie, and Sandie arrive after being delayed in traffic.[11]
Bobby Briggs visits the Double R Diner and joins Ed Hurley for dinner. Walter Lawford updates Norma Jennings on her diner franchise, suggesting that she may to compromise on her pie ingredients to remain profitable.[13]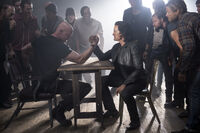 [edit]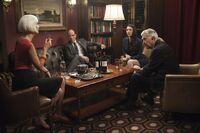 October
[
]
Jerry Horne interrupts a meeting between Ben and Beverly Paige to report on his

marijuana

confections.[1]
Jerry calls Ben in a panic, saying that his car is missing and he doesn't know where he is.[7]
Jerry has an episode in the woods when his right foot tells him that it is not his foot.[9]
Jerry struggles to find cellular reception, and screams, "You can't fool me! I've been here before!"[10]
Jerry emerges from the woods into a clearing.[12]
[edit]
Morning – Janey-E drives Dale Cooper to work. Anthony Sinclair corrals him into getting coffee at

Szymon's

, and attempts to poison him. However, believing Jones has found him out, he breaks down and confesses to him and Bushnell Mullins his involvement in the insurance racket with Mr. Todd. Sinclair agrees to testify against him and to expose Detective

Clark

and his partner's role.[13]
Gordon Cole calls Frank Truman back and learns about the clues found in Laura Palmer's diary pages. Cole learns from Diane Evans that her sister Janey-E and brother-in-law Dougie Jones live in Las Vegas, and assigns Randall Headley to locate them. Cole then tells Albert Rosenfield and Tammy Preston about a Monica Bellucci dream the previous night, and his sudden recollection of Phillip Jeffries' 1989 reappearance.[14]
Truman, Deputy Hawk, and Deputy Briggs arrest Chad Broxford and lock him in the station's holding cells.[14]
Truman, Hawk, Briggs, and Deputy Andy Brennan visit Jack Rabbit's Palace on Blue Pine Mountain, finding a strange opening in the ground and a naked eyeless woman.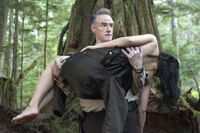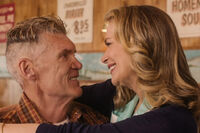 October – December
[
]
Deaths
[
]
References
[
]
Notes
[
]
External links
[
]