The angels were beings connected to the red room.
On February 16, when describing what falling down through space must feel like, Laura Palmer told her friend Donna Hayward that the angels wouldn't help her, "because they've all gone away."[1]
On February 18, Will Hayward tried to console a distraught Laura Palmer by reading her a fake prescription, upon which he had written a secret message for her: "The angels will return, and when you see the one that's meant to help you, you will weep with joy."[2]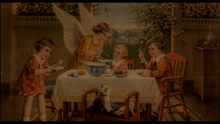 As of February 1989, Laura Palmer had a painting with an angel serving food to three children. On February 23, before going out, Laura saw the angel in the painting disappear.[1]
Later that evening, when Laura went to visit her boyfriend, his father Garland was in the living room, reading out loud passages from the Book of Revelation. Amidst the passages he read, two mentioned the angels: "And the angel thrust in his sickle into the earth, and gathered the vine of the earth and cast it into the great winepress," and another passage citing the appearance of "seven angels."[2]
That night, Ronette Pulaski, who had been tied up by Leland Palmer/BOB in the train car, had a vision of an angel floating in the air. After the angel had disappeared, Ronette found her hands untied, allowing her to open the car doors to Mike.[1]
After she was murdered, Laura Palmer found herself in the red room with Dale Cooper. An angel appeared and Laura began crying, then laughing.[1]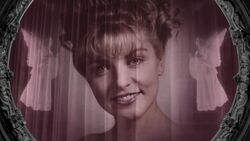 On October 1, Andy Brennan was transported through a vortex into the Fireman's home, where the Fireman showed him a series of images. Among these, Andy saw a vision of Laura Palmer's face with two angels surrounding her and the red room in the background.[3]
Community content is available under
CC-BY-SA
unless otherwise noted.