The following events took place in February 1989:

Laura, James, and Donna Hayward have a picnic in the woods. James films the two girls dancing with Laura's video camera.[2]
[edit]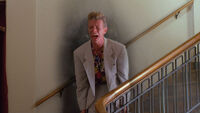 [edit]
Laura goes to Donna's house and, sobbing, asks her to reassure her that they're still friends.[4] They spend the afternoon at her house, where Will and Eileen both try to console her.[3]
Laura returns home and joins her parents for dinner. Leland, however, berates her for failing to wash her hands before sitting down, and then threatens her to tell him who gave her her locket. Sarah begs him to stop scaring her, and finally he relents.[4]
While preparing for bed, Leland breaks down in tears, and goes to Laura's room to apologize for his behavior.[4]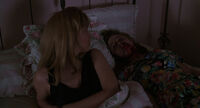 After falling asleep, Laura finds herself inside the room shown in Mrs. Tremond's picture. She steps through to find Mrs. Tremond and the little boy, before the curtains of the red room appear. She sees a conversation between Dale Cooper and the the arm. The arm extends a gold ring to her, while Cooper warns her not to take it. She seemingly awakens with the ring in her hand, and then sees Annie Blackburn lying next to her. Annie gives her a message about "the good Dale" to write in her diary.[4]
[edit]
On the way, Leland and Laura are pursued by Gerard, who roars past them and pulls up next to Leland, shouting at him about stealing "the corn. Leland guns the engine to drown him out, as Gerard waves a ring at Laura and shouts that "it's" her father. Leland speeds away and pulls up at a mechanic's shop. Laura, emotionally shot, tries to recall where she has seen the man before, then asks her father if he stopped by the house two days before.[4]
At night, Laura remembers seeing Gerard's ring on Teresa Banks' finger, and offered to her by a little man in a dream. She asks BOB who he really is. Leland recalls murdering Teresa the previous year.[4]
Events (original)
Edit
Events (alternate)
Edit
References
Edit
↑ Twin Peaks – "Episode 1"
↑ 2.0 2.1 Twin Peaks – "Pilot"
↑ 4.00 4.01 4.02 4.03 4.04 4.05 4.06 4.07 4.08 4.09 4.10 4.11 4.12 4.13 4.14 4.15 4.16 4.17 4.18 4.19 4.20 Twin Peaks: Fire Walk with Me
↑ Twin Peaks: Fire Walk with Me shooting script
↑ Twin Peaks – "Episode 4"