October 1
is the 274th day of the year (275th in leap years) in the Gregorian calendar.
2016

[edit]

Morning – Janey-E drives Dale Cooper to work. Anthony Sinclair corrals him into getting coffee at Szymon's, and attempts to poison him. However, believing Jones has found him out, he breaks down and confesses to him and Bushnell Mullins his involvement in the insurance racket with Mr. Todd. Sinclair agrees to testify against him and to expose Detective Clark and his partner's role.[2]
Gordon Cole calls Frank Truman back and learns about the clues found in Laura Palmer's diary pages. Cole learns from Diane Evans that her sister Janey-E and brother-in-law Dougie Jones live in Las Vegas, and assigns Randall Headley to locate them. Cole then tells Albert Rosenfield and Tammy Preston about a Monica Bellucci dream the previous night, and his sudden recollection of Phillip Jeffries' 1989 reappearance.[3]
Truman, Deputy Hawk, and Deputy Briggs arrest Chad Broxford and lock him in the station's holding cells.[3]
Truman, Hawk, Briggs, and Deputy Andy Brennan visit Jack Rabbit's Palace on Blue Pine Mountain, finding a strange opening in the ground and a naked eyeless woman.
Behind the scenes
Edit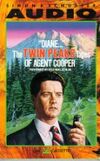 References
Edit
External links
Edit
Community content is available under
CC-BY-SA
unless otherwise noted.