Palmer house was the residence of the Palmer family of Twin Peaks, Washington.
History
[
]
To be added.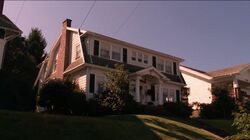 When Cooper's doppelganger reached the portal to Fireman's home, arriving at the coordinates, he was transported to the Fireman's projection room. On the screen has shown the Palmer house.[1]
Behind the scenes
[
]
In Twin Peaks, a home at 534 S. Lewis Street in Monroe, Washington was used for the exterior of the Palmer home. In Twin Peaks: Fire Walk with Me and Twin Peaks (2017), a house located at 708 33rd Street, Everett, Washington was used instead.
In the finale of The Return, the role of Alice Tremond, the owner of the Palmer house was performed by Mary Reber, the current owner of the home.[2] Reber, who has no prior acting experience, was approached by Lynch about playing the role while he and his crew were doing some location scouting at the house in early 2015, a surprise offer she happily accepted.[3]
The episode's final scenes outside the Palmer house were shot in the late hours of October 2 and the early hours of October 3, 2015. Paparazzi footage of the filming, plus reports of the screams that turned out to belong to Carrie Page, served as the first leaks from the set of the series.[4][5] To prepare for the screams, members of the crew went door-to-door to warn homeowners about the filming.[6]
Gallery
[
]
Appearances
[
]
References
[
]