Not to be confused with Episode 12.
"Part 12" is the twelfth episode of the 2017 series of Twin Peaks and the forty-second episode of the franchise as a whole. It aired on July 30, 2017.
"Let's rock."

―

Diane Evans
In Buckhorn, Albert, Tammy, and Gordon have a drink and the men quietly inform Tammy about Project Blue Book and more specifically the Blue Rose cases, thus inducting her into the Blue Rose task force among the ranks of Albert, Jeffries, Desmond, and Cooper. Diane soon joins them and they offer her an official position in the investigation.
Jerry runs out of the woods and into a clearing.
Sarah Palmer buys alcoholic beverages and cigarettes at a grocery store. She also inquires about an unfamiliar jerky being sold at the store. She warns them of men coming and suffers a breakdown.
Carl Rodd stops a trailer park resident, Kriscol, asking him about his income and gives him $50, saying not to pay his rent for the month.
Cooper is taken outside by Sonny Jim to play catch, but ends up just being hit by Sonny Jim's throw.
Hawk goes to Sarah's home. He hears a noise inside, which Sarah dismisses as something in the kitchen. Hawk ensures her that if she needs anything, to call him.
Miriam lays unconscious in a hospital bed at Calhoun Memorial Hospital.
Diane responds to a text message asking "Las Vegas?" with "THEY HAVEN'T ASKED YET."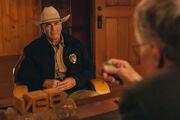 Frank visits Benjamin Horne, telling him of Richard committing the hit-and-run and his subsequent attempted murder of Miriam. Benjamin reflects on Richard's troubled past and shows Cooper's hotel key to Frank, which he had intended to give to Harry as a memento. Frank leaves with the key and Ben tells Beverly about Richard and his father, who bought him a bike when he was a child. He then has Beverly arrange to pay for Miriam's medical expenses.
Gordon tells a French woman one of his "war stories" until Albert shows up, dismissing the woman, who takes her time leaving Gordon's room. Albert reports on Diane's received and sent text messages.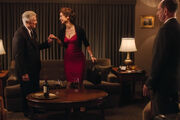 Hutch and Chantal stake out Dwight Murphy's home, assassinating him as he arrives home and is discovered by his son.
Jacoby broadcasts another Dr. Amp show, Nadine Hurley watching.
Audrey Horne argues with her husband Charlie, saying that they need to go to the Roadhouse to look for her lover Billy, while Charlie complains that he has too much paperwork. Frustrated, Audrey says they should call Tina, supposedly the last person to see Billy, and he eventually relents. Charlie calls Tina and receives some grave news, but blankly refuses to tell Audrey anything about the conversation.
Diane goes to the bar and searches the coordinates she saw in Albert's photo of Ruth Davenport's arm, finding that they lead to Twin Peaks.
At the Roadhouse, Chromatics perform "Saturday." In a booth, Abbie and Natalie talk about their friend Angela, concerned about her new infatuation with Clark, who had previously been seen going out with Mary. Trick joins them, shaken by the experience of being driven off the road by a driver heading the wrong way.
Episode credits
Edit
In Alphabetical Order
Edit
Production staff
Edit
Featured music
Edit
Written by John Phillip Sousa
Performed and arranged by the U.S. Army Band

"Saturday"

Performed by Chromatics
Written by Adam Miller and Johnny Jewel
Courtesy of Italians Do It Better
Wendy Robie is credited as "Wendie".
The scene with the French woman in the hotel was the final scene shot to feature Gordon Cole and Albert Rosenfield, thus it serves as Miguel Ferrer's final time playing his character before his death in 2017.[1]
Appearances
Edit
Individuals
Locations
Organizations
Objects
References
Edit
Community content is available under
CC-BY-SA
unless otherwise noted.