Not to be confused with Episode 8.
"Part 8" is the eighth episode of the 2017 series of Twin Peaks and the thirty-eighth episode of the franchise as a whole. It aired on June 25, 2017.
A 4K transfer of the episode was included in Twin Peaks: From Z to A.
Plot
[
]
"Gotta light?"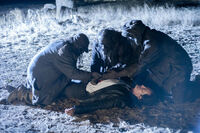 Cooper's doppelganger and Ray Monroe drive, the former noting that there are three tracking devices on their car. He deactivates them, repurposing them to track a truck in front of them. They discuss where they are headed and the information the doppelganger wants, and he lies to Ray about Darya.
They head off the highway to a secluded area. As Ray relieves himself, Cooper demands the information and attempts to shoot Ray, but Ray has unloaded his gun. Ray then shoots the doppelganger with another gun. Ray then sees six dark men gather around Cooper's body, tearing at it, revealing to Ray a black ball with the face of BOB. He runs away and tells Phillip Jeffries that he believes he is dead.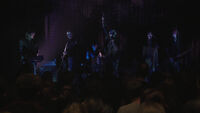 At the Roadhouse in Twin Peaks, an MC introduces the Nine Inch Nails. They perform their song "She's Gone Away."
Cooper's doppelganger sits up, alive.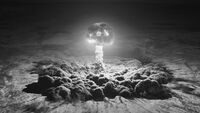 The world's first atomic bomb is detonated. Images of darkness and various distorted images are seen, followed by nebulae and a convenience store, where dark men arrive and move about outside. A figure appears to regurgitate a substance, where inside are many eggs, a speckled one getting out while the face of BOB can be seen on a black ball rock.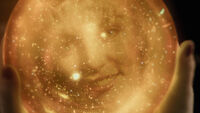 Golden and red imagery follows, then a purple sea under the Black Lodge, where atop a rock spire is a building. Inside is a woman who listens to a phonograph. ??????? enters as a mechanism in the room makes a noise. He goes upstairs, where he views the preceding events, ascending as a golden cloud forms above his head. The woman enters as a golden orb floats down to her from the cloud. It reaches her hands and the face of Laura Palmer appears. She kisses it and sends it to Earth.
August 5, 1956, New Mexico desert. A strange creature hatches from a speckled egg and crawls through the desert. A teenage couple walk past a gas station, the girl finding a face-up penny. Two woodsmen descend onto the ground and they stop a car, one of them asking the driver and his wife, "Gotta light?" The couple in the car become frightened and they speed away.
The young couple reach the girl's home and they share a kiss before she goes inside. One of the woodsmen approaches KPJK radio station, goes inside and kills the receptionist. He then goes to the disc jockey, grabs him tightly by the head and repeatedly broadcasts the words, "This is the water and this is the well. Drink full and descend. The horse is the white of the eyes and dark within," which causes listeners to fall unconscious including a waitress at Pop's Diner, a mechanic in his shop, and the girl. The creature reaches the girl's room and climbs into her mouth. The woodsman ends his broadcast, crushes the disc jockey's skull, and leaves while the neigh of a horse is heard.
Cast
[
]
Starring
[
]
In Alphabetical Order
[
]
Uncredited
[
]
Production staff
[
]
Featured music
[
]
Written by Trent Reznor and

Atticus Ross

Performed by Nine Inch Nails
Written by Georges Boulanger and Jimmy Kennedy
Performed by

The Platters

Published by Skidmore Music Co.
Courtesy of The Island Def Jam Music Group
Under license from Universal Music Enterprises

"

Threnody for the Victims of Hiroshima

"

Written by

Krzysztof Penderecki

Performed by

Warsaw National Philharmonic

Courtesy of Universal Music

"

Slow 30's Room

"

Written and performed by David Lynch and Dean Hurley
Behind the scenes
[
]
Mark Frost on the writing of this episode:
The idea obviously — or, well, not obviously — was that we'd never done anything close to what you might describe as a "Twin Peaks" origin story, [showing] where this pervasive sense of darkness and evil had come from. On the page, we wrote it in great detail. I think it was maybe 12, 15 pages. But as we were putting down the descriptions, I knew David was going to take that as the blueprint for something extraordinary. He ran with it and elevated it to a whole other level...the atomic explosion was probably half a page as written, but I knew that, in David's hands, it could run as long as 10 or 12 minutes, and it would be riveting. It was certainly a narrative departure from what we had done before. There was no question about that. But it needed to stand apart, and it needed to blow your mind. So mission accomplished.[2]
Filming locations in Washington included North Bend and Olallie for the garage and convenience store, respectively. Pop's Diner was filmed at Chili John's Restaurant in Burbank, California.
The music playing during and for a period of time after the atomic bomb blast is, appropriately, "Threnody for the Victims of Hiroshima," a composition by Polish composer Krzysztof Penderecki.
According to the original scripts for Part 8, part of the Woodsman's radio message was originally "atonal, word-like mechanical sounds" in addition to the "This is the water" refrain.[3]
Trivia
[
]
In an Inland Empire extra called "Quinoa," Lynch narrates a story in which he encountered creatures he described as "frog-moths." He later confirmed in his Room to Dream autobiography that they appeared in the 2017 series.
Trent Reznor and his band Nine Inch Nails previously contributed the soundtrack to David Lynch's film Lost Highway. Lynch also directed the music video for their single "Came Back Haunted."
Although his doppelganger makes an appearance, this is the only episode in which Dale Cooper does not appear.
"My Prayer" by the Platters is featured in this episode. Coincidentally, the group had a singer named David Lynch from its formation in 1952 to 1970.[4]
Although it was not made consciously at the time, Lynch likens the nuke with the picture in Henry Spencer's room from Eraserhead.[5]
Appearances
[
]
Individuals
Locations

The Farm (Mentioned only)

New Mexico

North America

White Sands

Organizations
References
[
]