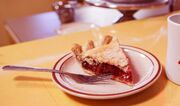 Pie is a baked dish consumed by many citizens of Twin Peaks, the most popular being cherry pie.
The Double R Diner is famous for its pies, which are loved by the customers such as Dale Cooper, Margaret Lanterman, and Miriam Sullivan.
Norma Jennings' recipe for cherry pie is as follows:[1]
3 cups cherries fresh frozen
1 cup bakers sugar
1/8 tsp salt
1 cup water
4 Tbs. cornstarch w-13
3 cups cherries
Thaw cherries overnight at room temperature.
2 cups juice
1 cup water
(add more or less water to yield 3 cups)
Drain cherries through a colander. This should yield 2 cups juice. Add 1 cup of water making a total of 3 cups juice. Reserve 1 cup juice for cornstarch mix.
1 cup juice cooled
4 Tbs w-13 cornstarch
Dissolve cornstarch in cooled liquid, stir with whip.
2 cups juice
2/3 cup bakers sugar
1/8 tsp salt
Bring juice, sugar and salt to a boil. At boiling point add cornstarch mix (step 3) and cook until clear, about 5 minutes. If cooked too long syrup gets gummy.
1/3 cup bakers sugar
Take step 4 off fire and stir in sugar. Blend thoroughly.
Completed cooked juice
Pour completed cooked juice over drained cherries (step 1) and blend with spoon. Cool. IMPORTANT: Stir completed mix while cooling to prevent scum from forming on top.
Pour in 8" pie crust shell. Top completed pie with lattice crust. Bake at 425 degrees for 35 to 40 minutes.
Pitted sour fresh frozen pie cherries should be used. Taste cherries for sweetness more sugar may be needed. If the cherries are frozen with sugar a little less may be needed.
Community content is available under
CC-BY-SA
unless otherwise noted.