The Search for the Zone, located at thesearchforthezone.com, was an Internet blog maintained by Buckhorn high school principal William Hastings, dedicated to the topic of parallel universes and alternate dimensions. Hastings ran the site with town librarian Ruth Davenport. Heinrich Viegel was an occasional contributor.[1]
History
[
]

The blog was started on June 1, 1997. As early as 2010, visitors could leave comments in a guestbook, to which Hastings would occasionally respond. The last site update took place in November 2015.[1]
The week before Ruth Davenport was found dead, Hastings left a post stating that the two of them had managed for the first time to enter "the zone," where they made contact with "the Major." Buckhorn police detective Dave Macklay provided a copy of the post to FBI investigator Albert Rosenfield.[2]
Contents
[
]
Introduction
[
]
Welcome to The Search for the Zone. Here you will find writings, links, and other bits and pieces as we find the time and inclination to post them up. This site is a journal of my (and my partner's) fascination with multidimensional/time travel, dark matter, the afterlife, etc. We are interested in a lot of things, but these are the main topics of discussion...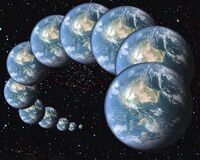 We will have to reconcile with the question that if someone from outside our familiar world gains access to our plane of existence, what ramifications will that entail? There might be forces at work from deep dimensional space, or from the future…or are these one in the same? Think of the events that could have splintered time? The things that could have laid the seed for a starting point for this development? Perhaps technological innovations or the assassination of

President

Kennedy?
A link below led to Hastings' older journal entries.[1]
Reading links
[
]
Parallel Universes and Density Shifting

The Science of Parallel Universes

On Electricity

by

Nikola Tesla

The

Horizon Project

Why Frequencies are the Key to Understanding Parallel Universes and Time Travel (link takes you to another site)

Fred's Blog

Epoch Times

article on Parallel Universes

Great article on

Hugh Everett III

This is a little goofy, but always nice to see some local Buckhorn/

Rapid City

area lore…after all this is the sacred lands of the

Lakota
Heinlein Links
[
]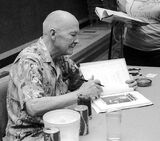 Science Fiction has been a source of enjoyment for me since I was ten years old, when I read

Orphans of The Sky

.
Robert A. Heinlein

Novel and Collections list

Robert A. Heinlein Homepage

The Heinlein Society
Wavs
[
]
Three WAV audio files were linked in this section:
[

]
At the bottom of the home page were banner links to subscribe to the site's newsletter or donate, and several awards, including the Yahoo! Pick of the Week and the WebTrips Rockin' Site of the Week.[1]
Guestbook
[
]
As of 2016, the site guestbook contained the following posts:
Date
Name
03 Nov 10 05:12am

Doris

There have been a few articles of well-known scientists who admitted they were trying to break thru to a parallel universe, so it's obvious even hard science is beginning to acknowledge there are indeed parallel universes. In general though science is a very dogmatic field and not open to enquiry. What's funny is when it's reported that science has 'found something that shouldn't exist' as if the whole universe is governed by man made laws of physics. Thanks for all your work, Bill...those of us in the community commend and support you!

12 Oct 11 03:01am

J. Garvey

Recently I had an experience that can only be explained by the existence of multiple dimensions. It was not a dream of any kind or anything I had experienced in the past. Without going into too much detail, I found myself present…physically present with a close friend who passed in some other 'space' or 'dimension.' He has been gone for several years but in this elsewhere where I found myself he existed in flesh form. I know this sounds impossible, but it happened, I swear. This has completely changed my concepts of 'life' and 'consciousness'

12 Oct 11 08:06pm
Bill Hastings [admin]

very powerful stuff, John...

07 Mar 14 04:53pm

Adam Z.

Its chemicals that change

the brain - we can do

this. I know it.

Betty is so cool!

20 Sep 14 06:06pm

Stewart Fuller

Oh Lord … It was grand to meet you H.V.!

08 Oct 14 07:15am

Get A Life

are you people crazy? there is no fucking 'zone.' fuck you and the spaceship you rode in on.

16 Jan 15 02:42pm

Mary Susan

my grandmother remembers this - she

said you are real but you should …

(not to say sorry.)

and remember this is not my name! - so

no one gets in trouble!

08 Sep 15 05:37pm

Tom Pence

great video… but not the good quality. I couldn't tell

- was that light really fire? Was the boy burned?

His face looked burned. When will you do the "thing"?

20 Nov 15 09:00pm

friend

where are you people?
Beginning in late July 2017, visiting the guestbook URL returned an internal server error (500).
Behind the scenes
[
]
TheSearchfortheZone.com was a real website owned by Rhino, intended to promote the release of the Twin Peaks (Music From The Limited Event Series) soundtrack. Mark Frost suggested the concept but was not involved in writing the site itself.
Appearances
[
]
Individuals

Ruth Davenport (Mentioned only)

Doris

friend

Stewart Fuller

John Garvey

Robert Heinlein

(Photograph only)

Get A Life

Tom Pence

Mary Susan

Heinrich Viegel (Mentioned only)

Adam Z.

Locations

Buckhorn (Mentioned only)

Rapid City

(Mentioned only)

Organizations
Objects
Appearances
[
]
References
[
]
External links
[
]