Twin Peaks: It's Happening Again
Play Sound
Twin Peaks (sometimes referred to as Season 3, promoted as Twin Peaks: The Return and released on home video as Twin Peaks: A Limited Event Series) is a revival and sequel series to the original 1990-1991 Twin Peaks television series and 1992 film Twin Peaks: Fire Walk with Me.
The series premiered on May 21, 2017 and concluded on September 3, 2017.
Plot
[
]
See also: 2016
Taking place 25 years after the second season finale, the series is an "emotional" story "about Agent Cooper's odyssey back to Twin Peaks."[1]
Episodes
[
]
| Image | Title | Tagline | Original airdate |
| --- | --- | --- | --- |
| | "Part 1" | My log has a message for you. | May 21, 2017 |
| | "Part 2" | The stars turn and a time presents itself. | May 21, 2017 |
| | "Part 3" | Call for help. | May 28, 2017 |
| | "Part 4" | ...brings back some memories. | May 28, 2017 |
| | "Part 5" | Case files. | June 4, 2017 |
| | "Part 6" | Don't die. | June 11, 2017 |
| | "Part 7" | There's a body all right. | June 18, 2017 |
| | "Part 8" | Gotta light? | June 25, 2017 |
| | "Part 9" | This is the chair. | July 9, 2017 |
| | "Part 10" | Laura is the one. | July 16, 2017 |
| | "Part 11" | There's fire where you are going. | July 23, 2017 |
| | "Part 12" | Let's rock. | July 30, 2017 |
| | "Part 13" | What story is that, Charlie? | August 6, 2017 |
| | "Part 14" | We are like the dreamer. | August 13, 2017 |
| | "Part 15" | There's some fear in letting go. | August 20, 2017 |
| | "Part 16" | No knock, no doorbell. | August 27, 2017 |
| | "Part 17" | The past dictates the future. | September 3, 2017 |
| | "Part 18" | What is your name? | September 3, 2017 |
Cast
[
]
Main article: Twin Peaks (2017) cast
The entire cast of 217 (with a few omissions) was announced on April 25, 2016. In December 2016, costume designer Nancy Steiner stated that there were 238 speaking roles in the new series, 21 more than previously reported.[2]
Bold = Returning from previous series or film
✝ = Reused footage only
Starring
[
]
In Alphabetical Order
[
]
Twin Peaks
[
]
Government
[
]
Las Vegas
[
]
South Dakota
[
]
New York City
[
]
Montana
[
]
New Mexico, 1956
[
]
Odessa, Texas
[
]
Supernatural
[
]
Musical guests
[
]
Several episodes feature a guest musical performance, usually over the end credits:
Absences
[
]
The following list is of living actors who played notable characters that are believed to be living (or whose status is unknown) as of Episode 29 or events described in The Secret History of Twin Peaks, but are not listed in the cast.
Michael J. Anderson (The Man from Another Place)

Anderson was offered to return, but declined due to a payment dispute with Showtime.[3] Anderson's portrayal was written out of the script by having the character evolve into a different form.

Ian Buchanan (Dick Tremayne)

Buchanan was considered to reprise his role, but plans changed for unknown reasons.[8]

Heather Graham (Annie Blackburn)

Graham was reportedly not offered to return, though she was willing to do so.[9]

Chris Isaak (Chester Desmond)

Isaak's possible return was discussed, but Mark Frost and David Lynch could not find an easy way to "bring him back from wherever he is."[10]

Piper Laurie (Catherine Martell)

Like Joan Chen (Josie Packard), Lynch and Frost reportedly tried to write Catherine back into the series, but were unable to, thus Laurie was not offered to return, though the actress was willing to do so.[11] Laurie did ultimately appear in the series, albeit only in archive footage.

Michael Ontkean (Harry S. Truman)

Ontkean was offered to reprise his role, but declined for undisclosed reasons.[12] The character has been written off as being sick, with his brother taking over his duties.

Kenneth Welsh (Windom Earle)

Like Graham, Welsh was not asked to return, but he would have been open to it.[13] Welsh's shoulder can be seen in archive footage used of BOB and Cooper's doppelganger laughing.
Production staff
[
]
See all: Twin Peaks (2017) crew
Bold = Previous Twin Peaks crew members
End credits
Production
[
]
Original season 3 plans
[
]
In the third season's original plans, BOB and Mike were from a place or a planet made of creamed corn which moves backward.[14][15][16][17] They fell out with each other when BOB stole a can of corn and escaped pursued by Mike.[14][16] The chase began on December 31, 1951[14] or on the night of Eisenhower inauguration with insects and garmonbozia appearing on the presidential table when the inauguration was stopped for half an hour (though it actually was because of the broadcast of the I Love Lucy episode where she has a baby).[18]
Every character would have had a doppelganger who lived in a reality for two minutes[15] or nanoseconds behind the other reality.[14]
Regarding Cooper's situation, the original intention would have been played as if the good Coop was possessed by BOB and eventually reveal it to be his doppelganger instead.[19][20] To rescue Dale from the place and the return the spirits to their place, Truman would open a portal by driving his jeep backward through a corn field,[15][16][18] going back in time.[14] Major Briggs would be the only choice to save Cooper due to his White Lodge experience.[21]
The cliffhanger would be solved before the commercial break of the first episode, with then a time skip of some years[22] getting away from the high school setting. Cooper being the pharmacist[16] and having left the FBI, Truman being a recluse, Sheryl Lee returning as a new character with red hair and to possibly be killed by BOB as well.[23]
Laura's diary entry about her vision of Annie saying "the Good Dale is in the Lodge" would have been found.[20]
Additionally, the novel The Autobiography of F.B.I. Special Agent Dale Cooper: My Life, My Tapes was conceived at a time when season 3 was in its early stages and some elements from it might have been reused. In particular, Emmet Cooper was a last-minute addition and Mark Frost commented that actor Roger Rees would be ideal for the role.[24]
Cancelled graphic novel
[
]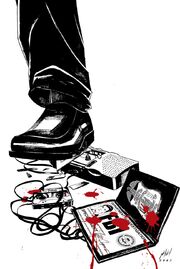 In 2007, artist Matt Haley was tasked with the project of a Twin Peaks graphic novel that would serve as a continuation of the television series. Writer Robert Engels was also heavily involved and planned to use story ideas originally planned for the canceled third season.
Cooper, who may or may not be possessed, starts serial killings, including a red-haired portrayed by Sheryl Lee. Truman, still broken by Josie, would drive backwards through a corn field with the One-Armed Man to go to the Lodge and rescue Cooper.[25]
Engels wished to steer the show away from the high school setting and years later, following the resolution of Cooper's possession by BOB, Cooper was to have quit the FBI and have become Twin Peaks' local pharmacist, Truman became a recluse and stopped being sheriff, being replaced by Andy, the comatose Annie never returned, Ben gave away his money and stayed with the wheel-chaired Audrey in a convalescent home following the bank explosion, Josie is haunting the Great Northern, James is still missing.[25]
The graphic novel was to be released in Twin Peaks: Definitive Gold Box Edition, but plans fell through when David Lynch vetoed the idea, wishing to not continue the story of Twin Peaks in any way.[25]
Showtime
[
]
The series was first announced on October 6, 2014, as a limited series of nine episodes that would premiere on the Showtime cable network in 2016. All scripts were written by original series creators Mark Frost and David Lynch. The series was described as revisiting the town of Twin Peaks and its inhabitants twenty-five years after the events of the original series.[26] Parts of the original blueprints of the 1990s season three were reused for the revival series.[27]
On January 12, 2015, it was confirmed that Kyle MacLachlan would reprise the role of Dale Cooper.[28] Four days later, Sheryl Lee and Dana Ashbrook also announced their casting in the 2016 series. They also implied the return of Sherilyn Fenn.[29] On September 18, 2015, it was revealed that Amanda Seyfried would have a recurring role on the new series as a "pivotal new character."[30] Two days later, it was reported that Balthazar Getty was part of the cast.[31]
On March 14, 2015, Lynch stated that there were contract negotiation "complications" impeding the progress of the production.[32]
On April 5, 2015, Lynch announced that he was pulling out of the series because Showtime was not offering enough money to properly fund the production of his scripts. Showtime stated that they still intended to proceed with the production.[33]
On May 15, 2015, Lynch announced that he was returning to the project and Showtime confirmed as much. Showtime also stated that Lynch would direct every episode and that there would be more than the initially announced nine episodes.[34]
After completing the original script, which was estimated to run nine episodes, Mark Frost began writing The Secret History of Twin Peaks, while Lynch wrote some additional material to make use of the extended episode order. These scenes were sent to Frost and approved prior to filming.[35]
Sheryl Lee and Sherilyn Fenn spoke at a panel at Seattle's Crypticon convention on May 23. They revealed that Lynch would direct eighteen Twin Peaks episodes for Showtime, that Angelo Badalamenti would return as the composer and that the new series would shoot on location in Washington State. Filming began in September 2015 and wrapped in April 2016.[36][37] The series takes the form of a movie divided into eighteen "parts," which should not be called "episodes."[38][39] Lynch stated, perhaps jokingly, that the parts could be viewed out of order.[39]
Promotional material
[
]
On March 21, 2017, Showtime launched eight[40] billboards in the following cities (two per town): Seattle, Missoula, Pittsburgh and Philadelphia.
Video
[
]
Unlisted videos
[
]
The following videos are unlisted but are tailored to show up in Google searches for their respective titles.
Images
[
]
Home media
[
]
The series received a DVD and Blu-ray release titled Twin Peaks: A Limited Event Series from CBS Home Entertainment on December 5, 2017.[41] It is scheduled to be included as part of the upcoming releases Twin Peaks: The Television Collection and Twin Peaks: From Z to A.
Future
[
]
A further continuation of the series has been discussed by Lynch, Frost, and Showtime. However, Lynch has stated that it is "too soon to tell if a fourth season is going to happen."[42]
Trivia
[
]
Laura Harring who starred alongside Naomi Watts (Janey-E Jones) on David Lynch's Mulholland Drive turned down a role in the season because her agent wanted her to play a bigger role and not play be cameo.[43]
External links
[
]
References
[
]